I am resurrecting Fluffy Mama of the Week and the first post in almost a year is a special one!  I contacted Glorimar Rosa who I had heard collected vintage diapers.  I was dying to learn more about her collection.  On top of collecting vintage cloth diapers she has also been cloth diapering for 15 years!  She has seen it all!
Tell me about yourself: My name is Glorimar Rosa. I am 38 years old and the mother of 6 kids, 5 here with me one (Zabi) in heaven with God. I am a pastry chef by profession, I went to culinary school in Puerto Rico and learned sugarcraft in England with the masters. I can make beautiful flowers in sugar and small sculptures. I did this for many years in Puerto Rico.  My cakes were featured in several wedding magazines.
I live in California now with my husband and 5 kids. I started Zabi Baby after my son Zabiullah passed away shortly after he reached 2 months of age. Sewing diapers helped me through my grieving process and kept his name very alive. We see his sweet name here every day at all times. Zabi Baby is a tribute to our little angel. We miss you Zabi.
How long have you been cloth diapering? – I have been cloth diapering for over 15 years. My eldest son Cesar used cloth.
What made you decide to start? – You know…I don't remember. I think it have a lot to do with Mothering Magazine. I remember calling the toll free numbers and requesting catalogs, no websites back then (not that I can remember and I certainly did not have internet). I used to order my diapers at Babybunz and Babyworks. I was familiar with Nikky covers. Locally I could get Gerber diapers and covers. Gerber had a line of nylon covers with velcro that was pretty decent. Lots of pvc or vinyl was available.
What was your first purchase and why? – A few packages of Gerber diaper covers and prefolds. Those were available at department stores locally. It was basically my only option, till I decided to see what those companies that advertised in Mothering had to offer.
When and how did you begin collecting vintage cloth diapers? – 2 years back! My mother had something to do with this. I come from a family who use cloth diapers and support the idea a lot. My mom and auntie used to tell me how they washed and how they IRONED their prefolds and flats so they look super cute and nice. She told me about the Curity 21×40 that she used with pins. That triggered aninterest in me to find those diapers. I don't use them, I just stare at them LOL.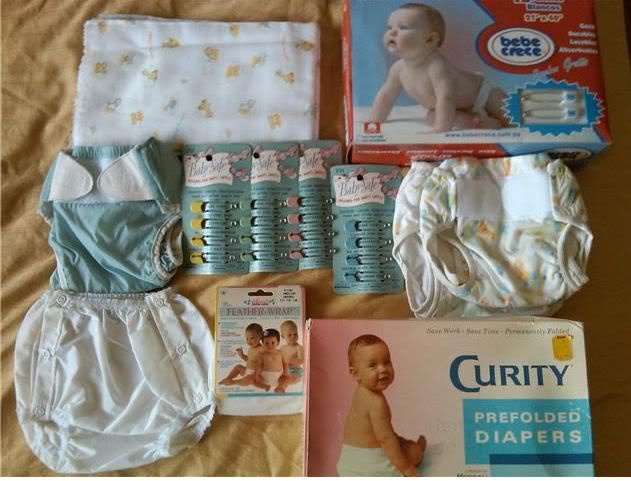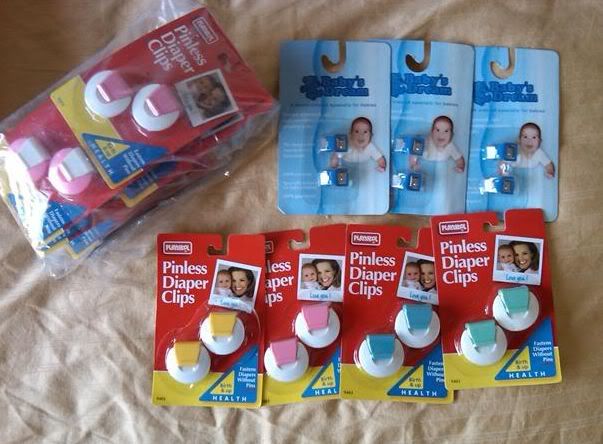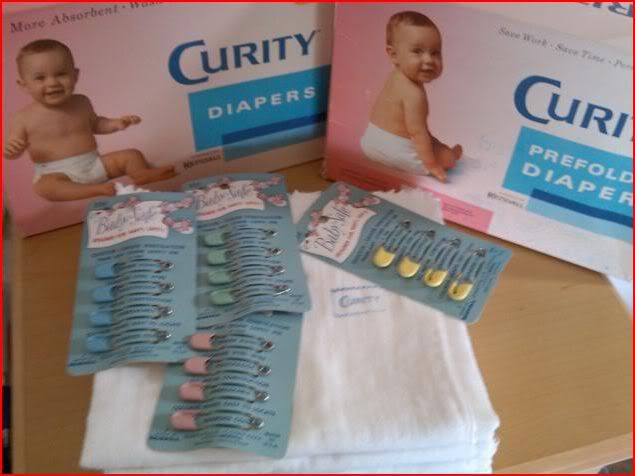 How do you find your diapers? Online? Sales?
My vintage diapers? I find those on Ebay and have a team of friends looking in garage sales or state auctions. If you have some and are willing to sell contact me!!
The diapers I use with my daughter Tasneem I buy online as well. I use different kinds. My all time favorites are Nikky covers and I pair those with bamboo prefolds. This combination is the one we use the most at home. I use also Kiwi Pie fitteds, Bagshot Row Bamboo and Sticky Peas for the cute factor with GAD covers. Weehuggers give me a super trim fit to go out and it always open a conversation with a mama. I have seen mamas staring at them LOL. For nap time and night time I use Little Comfort Nappies. I am fan of natural fibers and use those exclusively, except for the Little Comfort that contains a few layers of microfleece but perfectly balanced to be an absorbent fitted with stay dry benefits. I am ok with one size diapers but never one size covers. I like my covers to be sized, or at least 2 sizes like Weehuggers.
What is your opinion of how diapers have been made easier over the years?
Cloth diapering has come a long way!! 15 years back we had no snappis, so pins were the only option unless you trifolded your diaper inside a wrap. Not many exciting fabrics. Fitteds and all in ones were not as trim as they are right now. Back when I started there was flannel, flannel/terry combo and cotton twill or birdseye prefolds and some of them with a horrible poly/rayon pad inside. Nikky covers have always been superbly made with the best materials on the market but besides those nylon and pvc were the materials more widely available back then. I remember a cover made of GoreTex fabric, that was supposed to be breathable. I wonder why other covers are not made of that fabric. I owned a few of those and they were nice. Aristocrats wool soakers were available too.
What is the most rewarding aspect of using cloth diapers?
Being able to say that my baby does not get a rash ever!
What has been the biggest challenge to your success at cloth diapering? – It was a challenge in Puerto Rico. I did not have a dryer and it rains a lot. I used to place the diapers to sun outside and then minutes later the black cloud came! Everybody had to run to pick them up and install a line indoors. There were times that we had to buy sposies because they were all wet. Indoor drying is not easy because of the level of humidity on the island. I don't face that challenge here. No challenge at all right now. Cloth diapering is super easy!
Anything else (advice, etc)?
I advise mamas to buy different kinds of diapers to find out which one they like best. What works for me might not work for another mama. What I love might not be the favorite of another mama. Don't buy all your cloth diapers at once at the beginning. I did that once and ended liking other things along the way as the baby was growing.
I hope you found this week's Fluffy Mama to be extremely interesting and passionate!  It is amazing the changes seen in cloth diapering over the past 15 years!
Giveaway is now closed.
Glorimar also wanted to do a giveaway for an embellished prefold from Zabi Baby.  The winner will choose from a selection she has in stock from her store, and she is throwing in a snappi too!
Mandatory Entry:
(1 entry) Visit Zabi Baby's online shop and tell me which item she sells that you would love to try or already tried and love! Leave it as a comment.
For extra entries do any or all of the following.  Leave a comment for each you do.
(1 entry) Follow @KimRosas on twitter and tweet this giveaway. Please tweet, "@KimRosas is giving away an embellished prefold from Zabi Baby http://n8taq.th8.us. #clothdiapers Sep 11"  Leave a comment with a link to your status.
You can tweet once a day for the duration of the contest. Leave a comment with your status for each tweet. 1 entry per day.
(1 entry) Subscribe to my blog via email through feedburner. Leave a comment.
(1 entry) Follow me through Google Friend Connect or via a reader. Leave a comment.
(1 entry) Grab my button and post it on your blog. Leave a comment.
(2 entries) Blog about this giveaway and link to it. Post a link in the comment.
(2 entries) Get Creative: Post about this giveaway on a messageboard or forum. Leave a comment with a link.
(1 Entry) "Like" Zabi Baby on Facebook. Leave a comment.
(1 Entry) "Like" Dirty Diaper Laundry on Facebook.  Leave a comment.
(1 Entry) Go to Dirty Diaper Laundry on Facebook and start a discussion or reply to a discussion.  Tell me what you did. Just leave your comment
Giveaway ends on Sept 11. Winner will be chosen using random.org. If the winner does not respond within 48 hours a new winner will be drawn. *Open to US and Canada*